更多真题资料及报考疑问请加老师微信66746005,或点击这里在线咨询
初中英语 阅读
一、考题回顾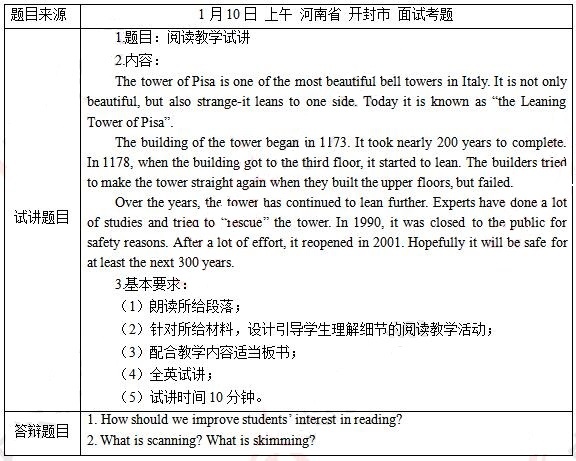 二、考题解析
【教案】
The Leaning Tower of Pisa
Teaching aims
Students can have a better understanding of the reading material about The Leaning Tower of Pisa.
Students will learn some useful expressions to introduce places of interest.
Students are able to use different basic reading strategies like grasping details correctly in their reading process.
Students will be interested in traveling more places of interest all over the world.
Key and difficult points
Key point
To understand the content of the passage and know how to introduce the place of interest.
Difficult point
To grasp the reading strategy and raise their interest in traveling more places of interest all over the world.
Teaching procedures
Step 1: Warming-up
1. Greet students by using different languages.
2. Sing a song named You and Me together with the class:
You and me, from one world.
We are family.
Travel one dream, a thousand miles.
Meeting in Beijing.
Invite students to introduce the background of this song and share some information with students that every four year countries all over the world will take part in the Olympic Games and ask students whether they know the amount of countries in the world and whether they can name some.
Step 2: Pre-reading
Show students pictures of the Roman Colosseum and Venice, ask students to describe them and then ask them whether they know where they are and which country they are in.
Step 3: While-reading
1. Extensive reading
Ask students to read the passage quickly for the first time and try to figure out what the passage is mainly about. Then invite one student to share the answer: the main idea is the introduction of The Leaning Tower of Pisa.
2. Intensive reading
Ask students to read the passage for the second time and at this time, let them pay attention to some key numbers which refer to years. Then try to make a timeline according to the passage.
Then invite some students to come to the stage to show their answers on the blackboard.
3. Ask students to read after the teacher to imitate the intonation and pronunciation.
Step 4: Post-reading
Story-sharing time
Ask students to work in groups of 4 and 8 minutes will be given to them to share their own traveling experiences, and introduce more places of interest they know or they have traveled to their group members. When the time is over, invite 2 groups at random to share and give proper evaluations.
Step 5: Summary and Homework
Summary: invite the monitor to make a summary and also share his own opinions on the topic. Then remind students to protect the environment wherever they travel.
Homework: ask students to find more information about places of interest and then choose one they like best to recommend to the doctors and nurses who work hard during the epidemic.
Blackboard design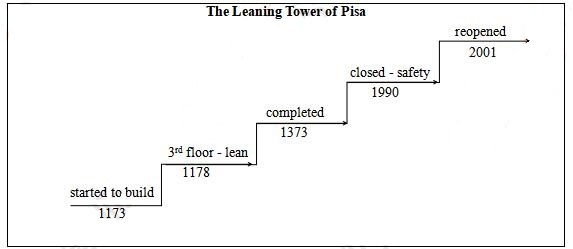 ​
Teaching reflection
【答辩题目解析】
1.你认为怎样提高学生的阅读兴趣?
1. How should we improve students' interest in reading?
【参考答案】
阅读兴趣的培养对于英语学习来说十分重要,是学生输入知识的一大来源。所以,我会从以下几方面入手帮助学生培养阅读兴趣。
首先,选择的阅读文本类型要贴合学生兴趣。初中学段的学生已经具备简单文学作品的赏析能力,因此可以推荐学生阅读一些简单的英美文学类的作品,另外,稍长一些的故事类作品和生动有趣的剧本作品也可以推荐给学生;其次,在阅读课中,教师应注意阅读技巧的渗透,帮助学生有效提高阅读能力;再次,阅读后,积极组织相应的拓展活动,例如让学生们围绕所学文章话题展开讨论,培养学生交流意识,让学生们有机会运用所学,提升其学习成就感。
总之,阅读技能的培养是教师教学的长期目标也是学生学习的长期目标,教师应尽其所能帮助学生提高阅读技能。
【Suggested version】
The cultivation of reading interest is very important for English learning, and it is a great source for students to input knowledge. Therefore, I will help students develop their interest in reading from the following aspects.
First of all, the type of reading materials should fit students' interests. Students in junior high school have the ability to appreciate simple literary works, so students can be recommended to read some simple works of British and American literature. In addition, both slightly longer works and vivid as well as interesting script works can also be recommended to them. Secondly, in reading class, the teacher should pay attention to the penetration of reading skills to help students improve their reading ability effectively. Thirdly, after reading, expansion activities should be correspondingly arranged, for example, let students discuss the topics of the articles they have learned, cultivate students' awareness of communication, give students the opportunity to apply what they have learned, and then enhance their sense of confidence in learning.
In a word, the cultivation of reading interest is the long-term goal of teaching and learning. Teachers should try their best to help students.
2.请谈一谈什么是扫读?什么是略读?
2. What is scanning? What is skimming?
【参考答案】
感谢考官提问。扫读和略读都是非常实用的阅读技巧,能有效帮助学生快速、准确地从文章中获取信息。
所谓略读就是快速浏览一遍文章,在浏览的过程中获取文章大意。而扫读,顾名思义,需要读者像打印机扫描文件一般将文章扫一遍,而在扫读之前,读者应明确需要获取的信息,这样才能在扫读的过程中准确找到信息所在位置,获取细节信息。
作为教师,应在阅读课堂教学中渗透两种技巧的使用,慢慢培养学生运用这两种形式的阅读习惯,从而提高学生阅读能力。
【Suggested version】
Thanks for your question. Both of these two skills are useful, and students should master.
Scanning and skimming are very practical reading skills, which can help students get information from articles quickly and accurately. The skimming is to browse the article quickly and get the general idea of the article. However, scanning, as its name implies, requires readers to scan articles like a printer scanning files. Before scanning, readers should have the information they need to obtain, so that they can accurately find the location and obtain detailed information during scanning.
As a teacher, we should implement the use of two skills in reading class, and cultivate students' reading habits of using these two skills, so as to improve their reading ability.
留下您的联系方式,我们给您做全方位的教师考试规划,还有免费资料赠送。
免费做题:点击下载题库APP(免费做题,免费视频,最新资讯)